Michele R. Chierotti
Professore/Professoressa ordinario/a
SSD: CHIM/03 - chimica generale e inorganica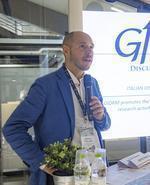 Contatti
+390116707523/6348
+390116707855
Via Giuria 7
10125 Torino
Italy
Presso
Department of Chemistry
Dipartimento di Chimica
Corso di laurea in Chimica e Tecnologie Chimiche
Corso di laurea in matematica
Corso di laurea in Scienze Biologiche (L-13)
Corso di Laurea in Scienze e tecnologie agrarie - STA
Corso di Laurea in Scienze forestali e ambientali - SFA
Corso di laurea magistrale in Chimica Clinica Forense e dello Sport
Scuola Universitaria Interdipartimentale in Scienze Strategiche (SUISS)
PhD in Chemical and Materials Sciences
Curriculum vitae
Curriculum Vitae (0.4 MB)
Prodotti della ricerca selezionati
Bravetti F , Bordignon S , Alig E , Eisenbeil D , Fink L , Nervi C , Gobetto R , Schmidt M U , Chierotti M R (2022)
Solid-State NMR-Driven Crystal Structure Prediction of Molecular Crystals: The Case of Mebendazole.
https://iris.unito.it/handle/2318/1837752
Mihails Arhangelskis, Dejan-Krešimir Bučar, Simone Bordignon, Michele R Chierotti, Samuel A Stratford, Dario Voinovich, William Jones, Dritan Hasa (2021)
Mechanochemical reactivity inhibited, prohibited and reversed by liquid additives: examples from crystal-form screens.
https://iris.unito.it/handle/2318/1767956
Zanolla D , Gigli L , Hasa D , Chierotti M R , Arhangelskis M , Demitri N , Jones W , Voinovich D , Perissutti B (2021)
Mechanochemical synthesis and physicochemical characterization of previously unreported praziquantel solvates with 2-pyrrolidone and acetic acid.
https://iris.unito.it/handle/2318/1838438
Bordignon S , Cerreia Vioglio P , Bertoncini C , Priola E , Gobetto R , Chierotti M R (2021)
Pseudopolymorphism Driven by Stoichiometry and Hydrated/Anhydrous Reagents: The Riveting Case of Methyl Gallate · L-Proline.
https://iris.unito.it/handle/2318/1837743
Claudio Pistidda, Archa Santhosh, Paul Jerabek, Yuanyuan Shang, Alessandro Girella, Chiara Milanese, Maria Dore, Sebastiano Garroni, Simone Bordignon, Michele R Chierotti, Thomas Klassen, Martin Dornheim (2021)
Hydrogenation via a low energy mechanochemical approach: the MgB2 case.
https://iris.unito.it/handle/2318/1802249
Andrea Aramini, Gianluca Bianchini, Samuele Lillini, Simone Bordignon, Mara Tomassetti, Rubina Novelli, Simone Mattioli, Larisa Lvova, Roberto Paolesse, Michele Remo Chierotti, Marcello Allegretti (2021)
Unexpected Salt/Cocrystal Polymorphism of the Ketoprofen–Lysine System: Discovery of a New Ketoprofen–l-Lysine Salt Polymorph with Different Physicochemical and Pharmacokinetic Properties.
https://iris.unito.it/handle/2318/1802256
Erika Luciano, Elena Scalambro (2020)
La Miscellanea Terracini. Biblioteca Speciale di Matematica "Giuseppe Peano" Dipartimento di Matematica "Giuseppe Peano", Università di Torino.
https://iris.unito.it/handle/2318/1739865
Neri G , Mion G , Pizzi A , Celentano W , Chaabane L , Chierotti M R , Gobetto R , Li M , Messa P , De Campo F , Cellesi F , Metrangolo P , Baldelli Bombelli F (2020)
Fluorinated PLGA Nanoparticles for Enhanced Drug Encapsulation and 19F NMR Detection.
https://iris.unito.it/handle/2318/1769691
Fornasari L , Olejniczak A , Rossi F , d', Agostino S , Chierotti M R , Gobetto R , Katrusiak A , Braga D (2020)
Solid-State Dynamics and High-Pressure Studies of a Supramolecular Spiral Gear.
https://iris.unito.it/handle/2318/1771235
Vivek Verma, Simone Bordignon, Michele R Chierotti, Monica Lestari, Kieran Lyons, Luis Padrela, Kevin M Ryan, Matteo Lusi (2020)
Cortisone and cortisol break hydrogen-bonding rules to make a drug–prodrug solid solution.
https://iris.unito.it/handle/2318/1766564
Tapmeyer L , Bolte M , Chierotti M R , Schmidt M U (2020)
Structure of the intermediates in the industrial separation of perinone isomers.
https://iris.unito.it/handle/2318/1772944
Simone Bordignon, Paolo Cerreia Vioglio, Elena Amadio, Federica Rossi, Emanuele Priola, Dario Voinovich, Roberto Gobetto, Michele R Chierotti (2020)
Molecular Crystal Forms of Antitubercular Ethionamide with Dicarboxylic Acids: Solid-State Properties and a Combined Structural and Spectroscopic Study.
https://iris.unito.it/handle/2318/1768301
Zanolla D , Hasa D , Arhangelskis M , Schneider-Rauber G , Chierotti M R , Keiser J , Voinovich D , Jones W , Perissutti B (2020)
Mechanochemical formation of racemic praziquantel hemihydrate with improved biopharmaceutical properties.
https://iris.unito.it/handle/2318/1772945
Bernasconi D , Bordignon S , Rossi F , Priola E , Nervi C , Gobetto R , Voinovich D , Hasa D , Duong N T , Nishiyama Y , Chierotti M R (2020)
Selective Synthesis of a Salt and a Cocrystal of the Ethionamide-Salicylic Acid System.
https://iris.unito.it/handle/2318/1758622
Md Hakim Ali, Saiful Azhar Rosly, Maha Radwan, Silvana Secinaro (2019)
An Examination of Factors Affecting Excess Liquidity, Evidence from Islamic Banks in Malaysia.
https://iris.unito.it/handle/2318/1702240
Duong N T , Rossi F , Makrinich M , Goldbourt A , Chierotti M R , Gobetto R , Nishiyama Y (2019)
Accurate 1H-14N distance measurements by phase-modulated RESPDOR at ultra-fast MAS.
https://iris.unito.it/handle/2318/1725743
Rossi F , Duong N T , Pandey M K , Chierotti M R , Gobetto R , Nishiyama Y (2019)
Determination of the 15 N chemical shift anisotropy in natural abundance samples by proton-detected 3D solid-state NMR under ultrafast MAS of 70 kHz.
https://iris.unito.it/handle/2318/1725730
Boanini E , Gazzano M , Nervi C , Chierotti M R , Rubini K , Gobetto R , Bigi A (2019)
Strontium and zinc substitution in β-tricalcium phosphate: An X-ray diffraction, solid state NMR and ATR-FTIR study.
https://iris.unito.it/handle/2318/1725582
Zanolla D , Perissutti B , Vioglio P C , Chierotti M R , Gigli L , Demitri N , Passerini N , Albertini B , Franceschinis E , Keiser J , Voinovich D (2019)
Exploring mechanochemical parameters using a DoE approach: Crystal structure solution from synchrotron XRPD and characterization of a new praziquantel polymorph.
https://iris.unito.it/handle/2318/1730025
Anelli C , Chierotti M R , Bordignon S , Quadrelli P , Marongiu D , Bongiovanni G , Malavasi L (2019)
Investigation of Dimethylammonium Solubility in MAPbBr 3 Hybrid Perovskite: Synthesis, Crystal Structure, and Optical Properties.
https://iris.unito.it/handle/2318/1730555
Luconi, Lapo, Garino, Claudio, Cerreia Vioglio, Paolo, Gobetto, Roberto, Chierotti, Michele R , Yakhvarov, Dmitry, Gafurov, Zufar N , Morozov, Vladimir, Sakhapov, Il', Yas, Rossin, Andrea*, Giambastiani, Giuliano (2019)
Halogen-Bonding Interactions and Electrochemical Properties of Unsymmetrical Pyrazole Pincer NiII Halides: A Peculiar Behavior of the Fluoride Complex (PCN)NiF.
https://iris.unito.it/handle/2318/1689970
Volpi G , Garino C , Priola E , Magistris C , Chierotti M R , Barolo C (2019)
Halogenated imidazo[1,5-a]pyridines: chemical structure and optical properties of a promising luminescent scaffold.
https://iris.unito.it/handle/2318/1723413
Vismara R , Tuci G , Tombesi A , Domasevitch K V , Di Nicola C , Giambastiani G , Chierotti M R , Bordignon S , Gobetto R , Pettinari C , Rossin A , Galli S (2019)
Tuning Carbon Dioxide Adsorption Affinity of Zinc(II) MOFs by Mixing Bis(pyrazolate) Ligands with N-Containing Tags.
https://iris.unito.it/handle/2318/1730481
Rossi F , Vioglio P C , Chierotti M R , Gobetto R (2019)
CHAPTER 8: Solid-state NMR in the Study of Intermolecular Interactions.
https://iris.unito.it/handle/2318/1729911
Bergemann, N , Pistidda, C *, Milanese, C , Aramini, M , Huotari, S , Nolis, P , Santoru, A , Chierotti, M R , Chaudhary, A -L , Baro, M D , Klassen, T , Dornheim, M (2018)
A hydride composite featuring mutual destabilisation and reversible boron exchange: Ca(BH4)2-Mg2NiH4.
https://iris.unito.it/handle/2318/1680753
Cerreia Vioglio, P , Szell, P M J , Chierotti, M R , Gobetto, R , Bryce, D L * (2018)
79/81Br nuclear quadrupole resonance spectroscopic characterization of halogen bonds in supramolecular assemblies.
https://iris.unito.it/handle/2318/1687745
d', Agostino, Simone, Fornasari, Luca, Grepioni, Fabrizia, Braga, Dario, Rossi, Federica, Chierotti, Michele R, Gobetto, Roberto (2018)
Precessional Motion in Crystalline Solid Solutions of Ionic Rotors.
https://iris.unito.it/handle/2318/1687273
Zanolla, Debora, Perissutti, Beatrice*, Passerini, Nadia, Chierotti, Michele R , Hasa, Dritan, Voinovich, Dario, Gigli, Lara, Demitri, Nicola, Geremia, Silvano, Keiser, Jennifer, Cerreia Vioglio, Paolo, Albertini, Beatrice (2018)
A new soluble and bioactive polymorph of praziquantel.
https://iris.unito.it/handle/2318/1687641
Davide Palma, Alessandra Bianco Prevot , Luisella Celi, Maria Martin, , , Debora Fabbri, Giuliana Magnacca, Michele R Chierotti, Roberto Nisticò (2018)
Isolation, Characterization, and Environmental Application of Bio-Based Materials as Auxiliaries in Photocatalytic Processes.
https://iris.unito.it/handle/2318/1686537
Santoru, Antonio*, Pistidda, Claudio, Brighi, Matteo, Chierotti, Michele R , Heere, Michael, Karimi, Fahim, Cao, Hujun, Capurso, Giovanni, Chaudhary, Anna-Lisa, Gizer, Gökhan, Garroni, Sebastiano, Sørby, Magnus H , Hauback, Bjørn C , Černý, Radovan, Klassen, Thomas, Dornheim, Martin (2018)
Insights into the Rb-Mg-N-H System: An Ordered Mixed Amide/Imide Phase and a Disordered Amide/Hydride Solid Solution.
https://iris.unito.it/handle/2318/1687750
Rossi, Federica, Cerreia Vioglio, Paolo, Bordignon, Simone, Giorgio, Valeria, Nervi, Carlo, Priola, Emanuele, Gobetto, Roberto, Yazawa, Koji, Chierotti, Michele R * (2018)
Unraveling the Hydrogen Bond Network in a Theophylline-Pyridoxine Salt Cocrystal by a Combined X-ray Diffraction, Solid-State NMR, and Computational Approach.
https://iris.unito.it/handle/2318/1671317
Cerreia Vioglio Paolo,, Chierotti Michele, R , Gobetto, R (2018)
Intermolecular Interactions in Crystals: Fundamentals of Crystal Engineering.
https://iris.unito.it/handle/2318/1659104
Wolczyk, Anna, Paik, Biswajit, Sato, Toyoto, Nervi, Carlo, Brighi, Matteo, Gharibdoust, SeyedHosein Payandeh, Chierotti, Michele, Matsuo, Motoaki, Li, Guanqiao, Gobetto, Roberto, Jensen, Torben R , Černý, Radovan, Orimo, Shin-ichi, Baricco, Marcello (2017)
Li5(BH4)3NH: Lithium-Rich Mixed Anion Complex Hydride.
https://iris.unito.it/handle/2318/1637919
Carletta, Andrea, Spinelli, Floriana, D', Agostino, Simone, Ventura, Barbara, Chierotti, Michele R , Gobetto, Roberto, Wouters, Johan, Grepioni, Fabrizia (2017)
Halogen-Bond Effects on the Thermo- and Photochromic Behaviour of Anil-Based Molecular Co-crystals.
https://iris.unito.it/handle/2318/1638690
Chierotti, Michele R , Amin, Muhamed, Hassan, Youssef S , Haikal, Rana R , Garino, Claudio, Alkordi, Mohamed H (2017)
Combined Solid-State NMR and Computational Approach for Probing the CO2 Binding Sites in a Porous-Organic Polymer.
https://iris.unito.it/handle/2318/1638673
Pagano, Paolo, Pelagatti, Paolo, Bacchi, Alessia, Chierotti, Michele R , Bourne, Susan A , Mehlana, Gift (2017)
Sorption properties toward environmentally important VOCs of half-sandwich Ru(II) complexes containing perylene bisimide ligands.
https://iris.unito.it/handle/2318/1638409
Dichiarante, V , Tirotta, I , Catalano, L , Terraneo, G , Raffaini, G , Chierotti, M R , Gobetto, R , Baldelli Bombelli, F , Metrangolo, P (2017)
Superfluorinated and NIR-luminescent gold nanoclusters.
https://iris.unito.it/handle/2318/1633139
Kumar, Vijith, Pilati, Tullio, Quici, Silvio, Chierotti, Michele Remo, Nervi, Carlo, Gobetto, Roberto, Resnati, Giuseppe (2017)
Proton in a Confined Space: Structural Studies of H+Crypt-111 Iodide and Some Halogen-Bonded Derivatives.
https://iris.unito.it/handle/2318/1651582
Kumar V , Pilati T , Quici S , Chierotti M R , Nervi C , Gobetto R , Resnati G (2017)
Proton in a Confined Space: Structural Studies of H+⊂Crypt-111 Iodide and Some Halogen-Bonded Derivatives.
https://iris.unito.it/handle/2318/1802137
Spinelli, Floriana, Dichiarante, Elena, Curzi, Marco, Giaffreda, Stefano L , Chierotti, Michele R , Gobetto, Roberto, Rossi, Federica, Chelazzi, Laura, Braga, Dario, Grepioni, Fabrizia (2017)
Molecular Salts of the Antidepressant Venlafaxine: An Effective Route to Solubility Properties Modifications.
https://iris.unito.it/handle/2318/1659168
Cerreia Vioglio, Paolo, Chierotti, Michele R , Gobetto, Roberto (2017)
Pharmaceutical aspects of salt and cocrystal forms of APIs and characterization challenges.
https://iris.unito.it/handle/2318/1657587
Goni, Md Abdul, Rosenberg, Edward, Gobetto, Roberto, Chierotti, Michele Remo (2017)
Dehydrogenative coupling of alcohols to esters on a silica polyamine composite by immobilized PNN and PONOP pincer complexes of ruthenium.
https://iris.unito.it/handle/2318/1651661
Bordignon, Simone, Cerreia Vioglio, Paolo, Priola, Emanuele, Voinovich, Dario, Gobetto, Roberto, Nishiyama, Yusuke, Chierotti, Michele R (2017)
Engineering Codrug Solid Forms: Mechanochemical Synthesis of an Indomethacin-Caffeine System.
https://iris.unito.it/handle/2318/1657271
Emanuele, Priola, Diana, Eliano, Michele, Chierotti, Elisabetta, Bonometti, Alessia, Giordana, Francesca, Grifasi (2017)
Reticular chemistry studies on CuCN derivatives for new luminescent materials.
https://iris.unito.it/handle/2318/1655008
Lazzarini, A , Pellegrini, R , Piovano, A , Rudiä‡, S , Castan-Guerrero, C , Torelli, P , Chierotti, M R , Gobetto, R , Lamberti, C , Groppo, E (2017)
The effect of surface chemistry on the performances of Pd-based catalysts supported on activated carbons.
https://iris.unito.it/handle/2318/1658117
Bergemann, N, Pistidda, C , Milanese, C , Emmler, T , Karimi, F , Chaudhary, A -L , Chierotti, M R , Klassen, T , Dornheim, M (2016)
Ca(BH4)2-Mg2NiH4: On the pathway to a Ca(BH4)2 system with a reversible hydrogen cycle.
https://iris.unito.it/handle/2318/1599028
Priola, Emanuele, Bonometti, Elisabetta, Rabezzana, Roberto, Buscaino, Roberto, Chierotti, Michele R , Operti, Lorenza, Diana, Eliano (2016)
[Ag(PPh3)4][(PPh3)CdCl3], the first monomeric trichlorocadmate complex bonded to a phosphorus ligand: a structural and spectroscopic study in solution and solid state.
https://iris.unito.it/handle/2318/1623673
Masala, Alessio, Grifasi, Francesca, Atzori, Cesare, Vitillo, Jenny G , Mino, Lorenzo, Bonino, Francesca, Chierotti, Michele R , Bordiga, Silvia (2016)
CO2 Adsorption Sites in UTSA-16: Multitechnique Approach.
https://iris.unito.it/handle/2318/1601105
Maini, L, Braga, D , Grepioni, F , Lampronti, G I , Gaglioti, K , Gobetto, R , Chierotti, M R (2016)
From isomorphous to "anisomorphous" ionic co-crystals of barbituric acid upon dehydration and return.
https://iris.unito.it/handle/2318/1593290
Parrino, F, Deiana, Chiara, Chierotti, Michele Remo, Martra, Gianmario, Palmisano, L (2016)
Formation of dibutyl carbonate and butylcarbamate via CO2 insertion in titanium(IV) butoxide and reaction with n-butylamine This work is dedicated to the memory of Prof. M.D. Grillone and Prof. M. Schiavello.
https://iris.unito.it/handle/2318/1643315
Pettinari, Riccardo, Marchetti, Fabio, Pettinari, Claudio, Condello, Francesca, Skelton, Brian W , White, Allan H , Chierotti, Michele R , Gobetto, Roberto (2016)
Self-assembly of arene ruthenium acylpyrazolone fragments to tetranuclear metallacycles. Molecular structures and solid-state 15N CPMAS NMR correlations.
https://iris.unito.it/handle/2318/1592955
Cerreia Vioglio, Paolo, Catalano, Luca, Vasylyeva, Vera, Nervi, Carlo, Chierotti, Michele R , Resnati, Giuseppe, Gobetto, Roberto, Metrangolo, Pierangelo (2016)
Natural Abundance 15N and 13C Solid-State NMR Chemical Shifts: High Sensitivity Probes of the Halogen Bond Geometry.
https://iris.unito.it/handle/2318/1615669
Santoru, Antonio, Pistidda, Claudio, Sørby, Magnus H , Chierotti, Michele R , Garroni, Sebastiano, Pinatel, Eugenio, Karimi, Fahim, Cao, Hujun, Bergemann, Nils, Le, Thi T , Puszkiel, Julián, Gobetto, Roberto, Baricco, Marcello, Hauback, Bjørn C , Klassen, Thomas, Dornheim, Martin (2016)
KNH2-KH: A metal amide-hydride solid solution.
https://iris.unito.it/handle/2318/1611998
Golob, Samuel, Perry, Miranda, Lusi, Matteo, Chierotti, Michele R, Grabnar, Iztok, Lassiani, Lucia, Voinovich, Dario, Zaworotko, Michael J (2016)
Improving Biopharmaceutical Properties of Vinpocetine Through Cocrystallization.
https://iris.unito.it/handle/2318/1611995
Gumbert, Silke D , Körbitzer, Meike, Alig, Edith, Schmidt, Martin U, Chierotti, Michele R , Gobetto, Roberto, Li, Xiaozhou, Van De Streek, Jacco (2016)
Crystal structure and tautomerism of Pigment Yellow 138 determined by X-ray powder diffraction and solid-state NMR.
https://iris.unito.it/handle/2318/1592848
Cerreia Vioglio, P , Chierotti, M R , Gobetto, R (2016)
Solid-state nuclear magnetic resonance as a tool for investigating the halogen bond.
https://iris.unito.it/handle/2318/1622740
Wolczyk, Anna, Pinatel, Eugenio R , Chierotti, Michele R , Nervi, Carlo, Gobetto, Roberto, Baricco, Marcello (2016)
Solid-state NMR and thermodynamic investigations on LiBH4-LiNH2 system.
https://iris.unito.it/handle/2318/1570874
Grifasi, Francesca, Priola, Emanuele, Chierotti, Michele R, Diana, Eliano, Garino, Claudio, Gobetto, Roberto (2016)
Vibrational–Structural Combined Study into Luminescent Mixed Copper(I)/Copper(II) Cyanide Coordination Polymers.
https://iris.unito.it/handle/2318/1593049
Lazzarini, A , Piovano, A, Pellegrini, R , Leofanti, G , Agostini, G , Rudić, S , Chierotti, M R , Gobetto, R , Battiato, A , Spoto, G , Zecchina, A , Lamberti, C , Groppo, E (2016)
A comprehensive approach to investigate the structural and surface properties of activated carbons and related Pd-based catalysts.
https://iris.unito.it/handle/2318/1593700
Raula, Manoj, Ganor, Gal, Saganovich, Marina, Zeiri, Offer, Wang, Yifeng, Chierotti, Michele R , Gobetto, Roberto, Weinstock, Ira A (2015)
Polyoxometalate Complexes of Anatase-Titanium Dioxide Cores in Water.
https://iris.unito.it/handle/2318/1557685
Marchetti, F, Palmucci, J, Pettinari, C, Pettinari, R , Condello, F, Ferraro, S , Marangoni, M, Crispini, A, Scuri, S, Grappasonni, I , Cocchioni, M, Nabissi, M, Chierotti, M R, Gobetto, R (2015)
Novel Composite Plastics Containing Silver(I) Acylpyrazolonato Additives Display Potent Antimicrobial Activity by Contact.
https://iris.unito.it/handle/2318/1524021
Grifasi, Francesca, Chierotti, Michele R , Gaglioti, Katia, Gobetto, Roberto, Maini, Lucia, Braga, Dario, Dichiarante, Elena, Curzi, Marco (2015)
Using salt cocrystals to improve the solubility of niclosamide.
https://iris.unito.it/handle/2318/1524030
Grifasi, Francesca, Chierotti, Michele R , Garino, Claudio, Gobetto, Roberto, Priola, Emanuele, Diana, Eliano, Turci, Francesco (2015)
Solvent-free synthesis of luminescent copper(i) coordination polymers with thiourea derivatives.
https://iris.unito.it/handle/2318/1524034
Gobetto, Roberto, Baricco, Marcello, Chierotti, Michele R , Franco, Federico, Nervi, Carlo, Paruzzo, Federico M , Wolczyk, Anna R (2015)
Synthesis and characterization of novel hydrogen storage materials.
https://iris.unito.it/handle/2318/1569792
Fátima Martínez Pazos (2015)
Caminos que dividen: el Scalextric en Vigo.
https://iris.unito.it/handle/2318/1835879
A Bacchi, A Brillante, D Crocco, M R Chierotti, R G Della Valle, A Girlando, M Masino, P Pelagatti, E Venuti (2014)
Exploration of the polymorph landscape for 1,1,4,4-tetraphenyl-1,3-butadiene.
https://iris.unito.it/handle/2318/149252
Michele Baldrighi, Davide Bartesaghi, Gabriella Cavallo, Michele R Chierotti, Roberto Gobetto, Pierangelo Metrangolo, Tullio Pilati, Giuseppe Resnati, Giancarlo Terraneo (2014)
Polymorphs and co-crystals of haloprogin: an antifungal agent.
https://iris.unito.it/handle/2318/146438
K Gaglioti, M R Chierotti, F Grifasi, R Gobetto, U J Griesser, D Hasa, D Voinovich (2014)
Improvement of the water solubility of tolfenamic acid by new multiple-component crystals produced by mechanochemical methods.
https://iris.unito.it/handle/2318/149571
Gobetto, Roberto, Franco, Federico, Chierotti, Michele, Nervi, Carlo, Baricco, Marcello (2014)
Solid State NMR spectra and GIPAW plane-wave investigation of hydrogen storage materials.
https://iris.unito.it/handle/2318/1569659
Michele R Chierotti, Roberto Gobetto, Carlo Nervi, Alessia Bacchi, Paolo Pelagatti, Valentina Colombo, Angelo Sironi (2014)
Probing Hydrogen Bond Networks in Half-Sandwich Ru(II) Building Blocks by a Combined 1H DQ CRAMPS Solid-State NMR, XRPD, and DFT Approach.
https://iris.unito.it/handle/2318/142011
Michele R Chierotti, Roberto Gobetto (2013)
NMR crystallography: the use of dipolar interactions in polymorph and co-crystal investigation.
https://iris.unito.it/handle/2318/141227
Dritan Hasa, Beatrice Perissutti, Mario Grassi, Michele R Chierotti, Roberto Gobetto, Valerio Ferrario, Davide Lenaz, Dario Voinovich (2013)
Mechanochemical activation of vincamine mediated by linear polymers: Assessment of some "critical" steps.
https://iris.unito.it/handle/2318/141231
Dritan Hasa, Beatrice Perissutti, Stefano Dall'Acqua, Michele R Chierotti, Roberto Gobetto, Iztok Grabnar, Cinzia Cepek, Dario Voinovich (2013)
Rationale of using Vinca minor Linne dry extract phytocomplex as a vincamine's oral bioavailability enhancer.
https://iris.unito.it/handle/2318/141232
Michele Baldrighi, Gabriella Cavallo, Michele R Chierotti, Roberto Gobetto, Pierangelo Metrangolo, Tullio Pilati, Giuseppe Resnati, Giancarlo Terraneo (2013)
Halogen Bonding and Pharmaceutical Cocrystals: The Case of a Widely Used Preservative.
https://iris.unito.it/handle/2318/141233
Dario Braga, Laura Chelazzi, Fabrizia Grepioni, Elena Dichiarante, Michele R Chierotti, Roberto Gobetto (2013)
Molecular Salts of Anesthetic Lidocaine with Dicarboxylic Acids: Solid-State Properties and a Combined Structural and Spectroscopic Study.
https://iris.unito.it/handle/2318/139735
Michele R Chierotti, Katia Gaglioti, Roberto Gobetto, Dario Braga, Fabrizia Grepioni, Lucia Maini (2013)
From molecular crystals to salt co-crystals of barbituric acid via the carbonate ion and an improvement of the solid state properties.
https://iris.unito.it/handle/2318/141217
Cucu M A , Said-Pullicino D , Divotti F , Chierotti M , Celi L (2013)
Influence of biotic and abiotic processes on the immobilization and distribution of applied N in fertilized paddy soils.
https://iris.unito.it/handle/2318/132180
Michele R Chierotti, Andrea Rossin, Roberto Gobetto, Maurizio Peruzzini (2013)
Interaction between a Transition-Metal Fluoride and a Transition-Metal Hydride: Water-Mediated Hydrofluoric Acid Evolution Following Fluoride Solvation.
https://iris.unito.it/handle/2318/141230
Federico Franco, Marcello Baricco, Michele R Chierotti, Roberto Gobetto, Carlo Nervi (2013)
Coupling Solid-State NMR with GIPAW ab Initio Calculations in Metal Hydrides and Borohydrides.
https://iris.unito.it/handle/2318/133378
Franco, Federico, Baricco, Marcello, Chierotti, Michele, Gobetto, Roberto, Nervi, Carlo (2013)
SOLID-STATE NMR COUPLED WITH GIPAW AB-INITIO CALCULATIONS IN METAL HYDRIDES AND BOROHYDRIDES.
https://iris.unito.it/handle/2318/1569610
Cucu MA , Said-Pullicino D , Divotti F , Chierotti M , Celi L (2012)
Biotic and abiotic processes affecting nitrogen immobilisation in submerged paddy soils.
https://iris.unito.it/handle/2318/153114
M R Chierotti, R Gobetto (2012)
Solid-State NMR Studies on Supramolecular Chemistry.
https://iris.unito.it/handle/2318/106085
D Hasa, B Perissutti, M R Chierotti, R Gobetto, I Grabnar, , , A Bonifacio, S Dall'Acqua, S Invernizzi, D Voinovich (2012)
Mechanochemically induced disordered structures of vincamine: The different mediation of two cross-linked polymers.
https://iris.unito.it/handle/2318/118218
A Rossin, M R Chierotti, G Giambastiani, R Gobetto, M Peruzzini (2012)
Amine-templated polymeric Mg formates: crystalline scaffolds exhibiting extensive hydrogen bonding.
https://iris.unito.it/handle/2318/105911
D M Tobbens, J Glinneman, M R Chierotti, J van de Streek, D Sheptyakov (2012)
On the high-temperature phase of barbituric acid.
https://iris.unito.it/handle/2318/105394
Eliano Diana, Michele Remo Chierotti, Edoardo Maria Cristiano Marchese, Gianluca Croce, Marco Milanesio, Pier Luigi Stanghellini (2012)
'Blue and red shift hydrogen bonds in crystalline cobaltocinium complexes.
https://iris.unito.it/handle/2318/108588
M R Chierotti, K Gaglioti, R Gobetto, M Barbero, C Nervi (2012)
Mechanism of the solvent-free reactions between indole derivatives and 4-nitrobenzaldehyde studied by solid-state NMR and DFT calculations.
https://iris.unito.it/handle/2318/118140
A Masic, M R Chierotti, R Gobetto, G Martra, I Rabin, S Coluccia (2012)
Solid-state and unilateral NMR study of deterioration of a Dead Sea Scroll fragment.
https://iris.unito.it/handle/2318/108139
D Hasa, D Voinovich, B Perissutti, M Grassi, A Bonifacio, V Sergo, C Cepek, M R Chierotti, R Gobetto, S Dall'Acqua, S Invernizzi (2011)
Enhanced Oral Bioavailability of Vinpocetine Through Mechanochemical Salt Formation: Physico-Chemical Characterization and In Vivo Studies.
https://iris.unito.it/handle/2318/91385
D Hasa, D Voinovich, B Perissutti, M Grassi, S Bhardwaj, Michele Remo Chierotti, Roberto Gobetto (2011)
ENHANCING ORAL BIOAVAILABILITY OF VINPOCETINE THROUGH MECHANOCHEMICAL CITRATE SALT FORMATION.
https://iris.unito.it/handle/2318/93343
M U Schmidt, J Brüning, J Glinnemann, M W Hützler, P Mörschel, S N Ivashevskaya, J van de Streek, D Braga, L Maini, M R Chierotti, R Gobetto (2011)
The Thermodynamically Stable Form of Solid Barbituric Acid: The Enol Tautomer.
https://iris.unito.it/handle/2318/93481
A Bacchi, G Cantoni, M R Chierotti, A Girlando, R Gobetto, G Lapadula, P Pelagatti, A Sironi, M Zecchini (2011)
Water vapour uptake and extrusion by a crystalline metallorganic solid based on half-sandwich Ru(II) building-blocks.
https://iris.unito.it/handle/2318/91304
R Giustetto, K Seenivasan, F Bonino, G Ricchiardi, S Bordiga, M R Chierotti, R Gobetto (2011)
Host/Guest Interactions in a Sepiolite-Based Maya Blue Pigment: A Spectroscopic Study.
https://iris.unito.it/handle/2318/89261
V A Levina, A Rossin, N V Belkova, M R Chierotti, L M Epstein, O A Filippov, R Gobetto, L Gonsalvi, A Lledós, E S Shubina, F Zanobini, M Peruzzini (2011)
Acid–Base Interaction between Transition-Metal Hydrides: Dihydrogen Bonding and Dihydrogen Evolution.
https://iris.unito.it/handle/2318/91303
Roberto Gobetto, Riccardo Pettinari, Claudio Pettinari, Fabio Marchetti, Carlo Nervi, Michele R Chierotti, Brian W Skelton, Allan H White (2010)
Solid-State 15N CPMAS NMR and Computational Analysis of Ligand Hapticity in Rhodium Poly/pyrazolyl)borate Diene Complexes.
https://iris.unito.it/handle/2318/80636
D Braga, F Grepioni, L Maini, S Prosperi, R Gobetto, M R Chierotti (2010)
From unexpected reactions to a new family of ionic co-crystals: the case of barbituric acid with alkali bromides and caesium iodide.
https://iris.unito.it/handle/2318/78960
Riccardo Pettinari, Claudio Pettinari, Fabio Marchetti, Roberto Gobetto, Carlo Nervi, Michele R Chierotti, Eric J Chan, Brian W Skelton, Allan H White (2010)
Solid-State 15N CPMAS NMR and Computational Analysis of Ligand Hapticity in Rhodium(η-diene) Poly(pyrazolyl)borate complexes.
https://iris.unito.it/handle/2318/79324
Jesse Allen, Edward Rosenberg, Michele R Chierotti, Roberto Gobetto (2010)
Surface oxidation of Co2+ and its dependence on ligand coordination number in silica polyamine composites.
https://iris.unito.it/handle/2318/74679
R Pellegrini, G Leofanti, G Agostini, E Groppo, M R Chierotti, R Gobetto, C Lamberti (2010)
Pd supported catalysts: evolution of the support during Pd deposition and K doping.
https://iris.unito.it/handle/2318/87295
Braga D , Dichiarante E , Palladino G , Grepioni F , Chierotti M R , Gobetto R , Pellegrino L (2010)
Remarkable reversal of melting point alternation by co-crystallization.
https://iris.unito.it/handle/2318/81231
R Bettini, R Menabeni, R Tozzi, M B Pranzo, I Pasquali, M R Chierotti, R Gobetto, L Pellegrino (2010)
Didanosine polymorphism in a supercritical antisolvent process.
https://iris.unito.it/handle/2318/68915
Michele R Chierotti, Luca Ferrero, Nadia Garino, Roberto Gobetto, Luca Pellegrino, Dario Braga, Fabrizia Grepioni, Lucia Maini (2010)
The Richest Collection of Tautomeric Polymorphs: The Case of 2-Thiobarbituric Acid.
https://iris.unito.it/handle/2318/76538
Temi di ricerca
I principali interessi di Michele Chierotti riguardano il Crystal Engineering per la progettazione razionale, la sintesi e la caratterizzazione di nuove forme cristalline (polimorfi, co-cristalli, sali...) di composti farmaceutici e organometallici con proprietà desiderate. Si interessa anche alla sintesi e caratterizzazione di polimeri di coordinazione e Metal-Organic-Frameworks (MOF) con proprietà luminescenti o di immagazzinamento di gas (H2 e CO2). L'approccio sintetico si basa su reazioni "green" che non richiedono solventi (tecniche meccanochimiche, solido-solido, solido-gas e idrotermale). Particolare attenzione è stata data alla caratterizzazione (detezione, forza, e network) delle interazioni deboli, principalmente legami idrogeno e alogeno e contatti π-π. È esperto nell'uso di numerosi esperimenti 1D e 2D NMR allo stato solido (SSNMR) combinati con diffrazione di raggi X su polvere e calcoli quantomeccanici per la soluzione strutturale di campioni microcristallini in polvere. Sebbene l' SSNMR ricopra il ruolo principale nelle analisi, fa ampio uso anche delle spettroscopie IR e Raman e dei metodi calorimentrici.
Sito web: www.nmr.unito.it
His main interest concerns the Crystal Engineering field with a supramolecular approach to rational design, synthesis and characterization of new crystal forms (polymorphs, co-crystals, salts...) of pharmaceutical and organometallic compounds with desired properties. He is also interested in the synthesis and characterization of coordination polymers and Metal-Organic-Frameworks (MOFs) with luminescent or gas (H2 and CO2) storage properties. The synthetic approach is based on solvent free reactions (mechanochemical, solid-solid, solid-gas and hydrothermal techniques). Particular attention has been given to the characterization (detection, strength and network analysis) of weak interactions, mainly hydrogen and halogen bonds and π-π contacts. He is expert in the use of several 1D and 2D solid-state NMR (SSNMR) experiments combined with powder X-ray diffraction and quantum mechanical computations for the structure solution of powdered microcrystalline samples. Whilst SSNMR has been the primary tool in these investigations, extensive use has been also made of IR and Raman spectroscopies and thermal methods.
Web site: www.nmr.unito.it
Gruppi di ricerca
Progetti di ricerca
Attività in agenda
Organi
Ricevimento studenti
Si riceve su appuntamento tramite richiesta via email o telefonica.
Ufficio presso il Dipartimento di Chimica, Via Pietro Giuria, 7.
To book an appointment, please send an e-mail.
The office is located at the Chemistry Department in Via Pietro Giuria, 7.